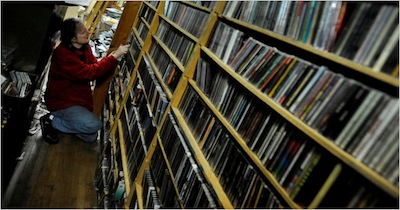 By MERIBAH KNIGHT from NY times
One of these days, Chris Miller is going to run out of space for compact discs at his CD-only music shop, Chicago Digital, in Oak Park. Last week he had to put a second shelf in the restroom. It extends from the top of the toilet's water tank to the ceiling and accommodates classical composers from Liszt, Franz, through Mozart, W. A.
"I have pretty much packed out where I can go," Mr. Miller said.
He said he believed that Chicago Digital, which opened in 1985, was the first compact-disc store in Illinois. The shop now holds around 40,000 discs, Mr. Miller estimates with a tape measure allotting three discs per inch. (His only vinyl is a box of LPs someone abandoned three years ago, and it still sits on the shop's floor.)