Mixed by Taimur Agha (BLK|Market Membership/halcyon) & Clockwork(Hot Creations/Life & Death Brooklyn)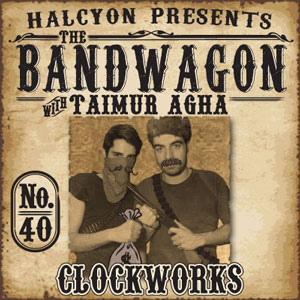 Clockwork (Hot Creations / Life & Death Brooklyn)
Francesco Leali and Federico Maccherone aka Clockwork met at the age of 15 both growing up in the suburbs of Milan. Francesco's music interests and qualifications range from twelve years studying percussion at the Milanese conservatory, to a degree in music marketing and artist promotion. Federico on the other hand started as a label founder, later deciding to follow his true passion moving to New York to start playing in underground clubs immediately making a name for himself. Their music is driven by anything varying from '80s Disco music to chugging Techno. Their sound is mainly characterized by bouncy and decisive analog bass lines combined to rhythmic drum patterns, all mainly inspired by music from the '60s '70s and '80s.
The Bandwagon
The Bandwagon is halcyon's All New Old-Timey Record Review and Talent Show! Each and every Two hour ride on The Bandwagon begins with halcyon the shoppe's own high-flying Techno honcho in a poncho… the mysterious and often delirious Taimur Agha of BLK|Market Membership! Thrill to Taimur's death-defying DJ feats as he balances beats live without a net on the www in his round up of the latest and greatest ear-catching, ground-shaking musical marvels from the far corners of the globe. Then, turn your attention to the center ring for The Bandwagon's main attraction!… Direct from the far off nether regions of Brooklyn we bring you an astonishing cavalcade of talent never before assembled on one program – musical magicians, masterful minstrels and mystifying midi-freaks alike will be unveiled to your shock and awe with in-depth interviews and exclusive featured performances.