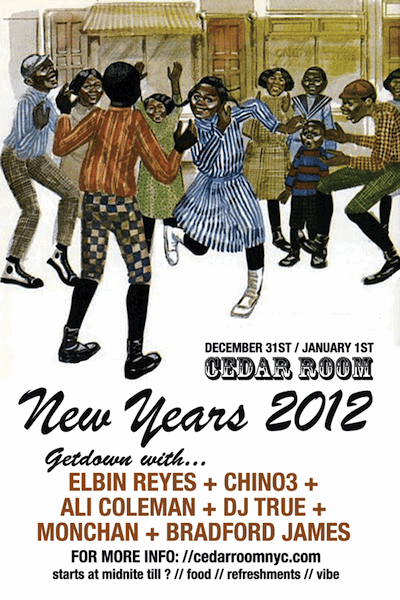 "I just wanna see all my friends at once…" dinosaur L
To bring in the New Year….
Thats the theme we droppin some serious vinyl records with our friends till the WEEE HOURS OF THE MORNING!!
Expect Loft / Garage Classics /Deep Soulful House Music and everything else inbetween to keep your booty shaking ALL NIGHT!!
SPUN from Vinyl on a HI-Fidelity Surround Sound System !!
By what we consider some of the best DJs and tastemakers in the business !!
We also celebrating our Brother Ali Coleman's Birthday!! (Jan 1, 2012)
This is an Intimate party with invitations to all our friends and there friends! Limited to 100 people!!
Advance $20 tix are available: http://cedarroomnyc.com/
(Simply Join the site and then go to NYE 2012 pull down menu)
or hitup any of the dj's they will gladly sell you tickets aswell!
DJ's: Elbin Reyes // Chino3 // Ali Coleman // DJ True // Bradford James // Monchan
Food // Libations // Vibe // Serious Full Fidelity Surround Sound System
$20 COVER // FOOD // LIBATIONS // VIBE!!ES
FOR MORE INFO: WWW.CEDARROOMNYC.COM