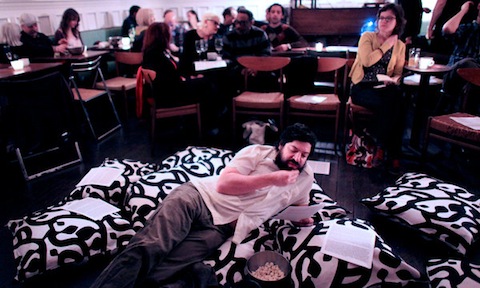 By JOHN LELAND – NY Times
Let there be spring. Let there be oysters and music and people in Williamsburg, Brooklyn, who don't make us all feel old.
Nature, once a year, can be counted on to provide the first, however fleeting. For the other three there areClassic Album Sundays at Bellwether, just south of McCarren Park, where a former New Yorker named Colleen Murphy will gather the faithful once a month to listen to a vinyl album in its entirety on an audiophile's sound system.
The series, which Ms. Murphy has run in London since 2010, made its Brooklyn debut this month with Bob Dylan's "Blood on the Tracks" (1975). Ms. Murphy will return to present Kraftwerk's "Autobahn" (1974) on April 8, for fans who cannot get tickets to see the German electronic music pioneers' coming eight performances at MoMA. Food and drink circulated until the needle dropped at 7 p.m., after which silent attentiveness reigned. Early arrivals grabbed the few tables; for others, there were loose chairs and pillows on the floor. [Read More]