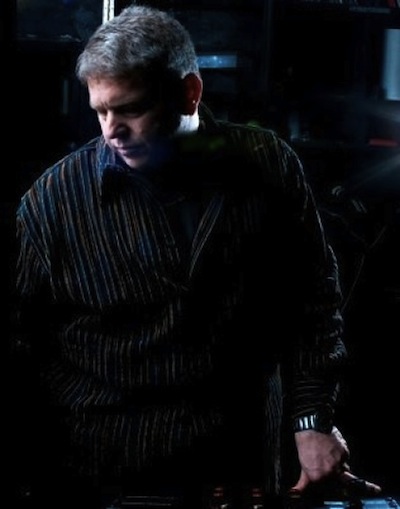 By Dennis "Citizen" Kane (Disques Sinthomme, Ghost Town)
With the tragic loss of our friend and colleague Gary Stewart it seemed right to present this interview that I did with him for BPM magazine in 2005. I had the good fortune to play on several systems designed by Gary, and the quality of them was unparalleled. We became friends over the years and although we got together only once in a while, we would check in on the phone regularly. Our chats ranging from the intricacies of sound design, "the business", and me setting up my own mobile system, to the future of GSA, to life and family. Always engaging, Gary could be supportive, instructive and sardonic in equal measure, bottom line: even when we were both feeling down we laughed a lot . He will be missed .
BPM Interview #14
It's early in the evenings set at LOVE and I am playing a Balearic classic, a Mike Francis record with emblematic 80's production, rich vocals, acoustic guitar and lush synthesizer washes. I just can't believe how good it sounds, the warmth of the record, the fidelity of the mid range, the soft weight of the lows. I'm playing the record on a technics 1210 with a modified SME tone arm; it's passing through a customized Urei mixer and emerging from an analogue sound system designed by this month's interviewee Gary Stewart.
GSA (Gary Stewart Audio) has been a premier designer of club sound systems since the early 80's. He has taken up the mantle of analogue sound design from its principle architect, the late Richard Long. In fact it was the result of an epiphany that occurred to Gary while poring over Richard's late design notes: The supple and dynamic sonic range he wanted his systems to represent could be found in the modulation of an analogue structure. I recently sat down with Gary to cover his history and see what brought him to that revelatory point.
DK: OK Gary, how did you get to be the "Sound Guy" (laughter)
GS: I actually started as a musician; I had studied with a Gene Dell (a jazz guitarist) and was at the Manis College of music for trumpet, it was time for classical theory and the jump to the piano, and I made the jump to Studio 54. (laughter)
DK: A different kind of schooling…
GS: I would be there six or seven nights a week, the sound was so dramatic, it was a Richard Long system, they had the 3 way "Waldorf" horn loaded boxes, The "Levan" sub-bass horns, "Z" tweeter arrays and the "Ultima" stacks, with Richards 3-way crossover…it was like nothing I had ever experienced before, the records being played sounded so fresh, above and beyond the way I had heard them prior. Eventually I met Richard there one night, I was like "who are you"? The experience of that system changed the way I felt about music, it was really sublime.
DK: How did you transition into setting up systems?
GS: When I was about 19 I had started building Dynaco stereo products from a kit. I did it with my dad as a hobby, we weren't that good, and invariably would have to take our stuff for repair, but I remember a service guy telling me my soldering work was very tight. I stayed with it, not really projecting a career but just enjoying it. I remember I once tried to test an amplifier with a toaster as a load, (laughter) don't try that at home. I accrued more and more components over time.  [Read More]