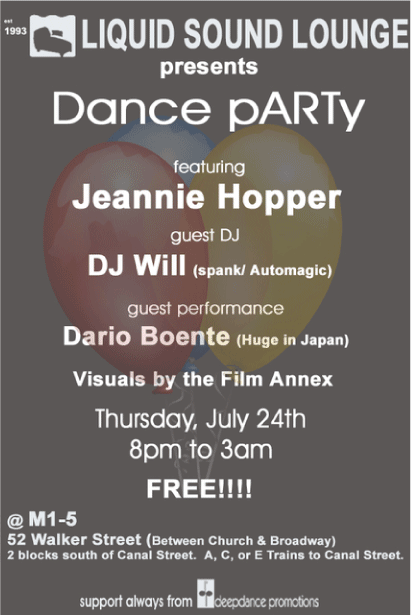 THURSDAY, JULY 24TH, 2008
The LIQUID SOUND LOUNGE 15 Yr Anniv. Celebration continues
A Monthly series at M1-5
The LIQUID SOUND LOUNGE Monthly Dance Party & Showcase
DJ JEANNIE HOPPER
DJ Will – Spank/Automagic.
Dario Boente of Huge in Japan performing a live Brazilian house booty-licious dance set+more!!
Excellent dance space for you to enjoy! Wood floors, high ceilings, nice staff, yummy tapas style food until midnight, and it's free..come on out and get your booty shakin'!
Visuals by the Film Annex
FREE. 8p-3a.
@M1-5 – 52 Walker Street, between Church & Broadway, 2 blocks south of Canal Street. Tribeca