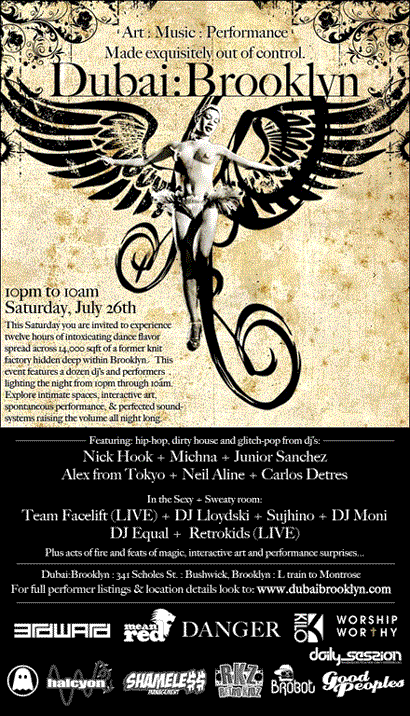 Mirage vs Illusion
w/  Junior Sanchez, Michna, DJ Soul, Team Facelift, DJ Moni, DJ Lloydski, Sujinho, DJ Moni, DJ Equal, Retrokids, Nick Hook, Carlos Detres, Alex from Tokyo, Neil Aline
Saturday, July 26th 2008
Dubai, Brooklyn  // 341 Scholes St., Bushwick
Time: 10pm-10am (the no-joke all night throw-down)
Door:  $15 with RSVP $20 otherwise
Oh subwoofers, concrete and filth… Dubai be thy name! To you we flock, faces-upturned and palms extended. From Astoria, from Bed-Stuy, from the LES and Jersey City we'll come – just to be taken by the force of
On Saturday 26th, we are teaming up with the Danger to bring a mess of NYC luminaries and a gang of insane party kids to Dubai. We'd like to say it'll be like two worlds merging…but really its that they are just finding each other again.
Sexy and Sweaty room:
Team Facelift (LIVE)
Sujinho
DJ Soul
DJ Moni
DJ Equal
Retrokids (LIVE)
Four to the Floor room:
Junior Sanchez
Michna
Nick Hook
DJ Lloydski
Carlos Detres
Alex from Tokyo 
Neil Aline
Plus fire acts and performance illusion by Flambeaux, Akim Funk Buddha and a fleet of acrobatic performers, plus macabre magic from Michael X in a show you won't want to believe, middle east meets west screen art by Peripheral Media Projects, and more acts to be added in the coming days. 
Free vodka/watermelon cocktails before 11pm.
Once an industrial knit factory in the heart of Brooklyn, now converted into a 14,000 square ft playground of pure bacchanalian joy. A place where interactive art fuses with first-class hedonism, and music drives us till dawn.
:: Built by MeanRed and The Danger