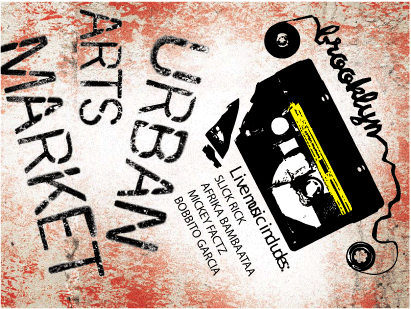 By Reed Vreel and Brooklyn Daily Eagle
"CLINTON HILL— On Sunday, the first of five Urban Arts Markets was held on Myrtle Avenue in Clinton Hill. The day-long event was harried by intermittent rainstorms, the first of which struck before the market began at noon. The second storm broke around 3 p.m., forcing the market and all of its vendors to close shop just as the event had begun to attract more pedestrian traffic.
But during a three-hour window of sunshine on Sunday, the market (situated right by Pratt University) flourished and offered a preview of what organizers expect during the next four events. The vendors and perusing shoppers displayed a carefree, summer spirit that seemed irrepressible. Music flowed from the stage, and small local businesses filled the tents with a tantalizing and colorful variety of handcrafts, accessories and art." [Read More]
Click HERE for the Urban Arts Market music schedule.
Click HERE for the Urban Arts Market vendor list.