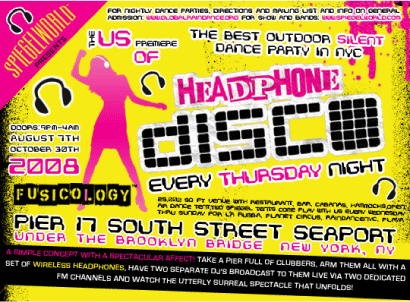 Anyone been to the Headphone Disco party at Spiegelworld yet? If you're not sure what we're talking about, here's the description:
"A simple concept with a spectacular affect. Take a room full of clubbers, arm them all with a set of wireless headphones, have two separate DJ's broadcast to them live via two dedicated FM channels and watch the utterly surreal spectacle that unfolds. A mass of humanity, throwing moves, pulling shapes and singing along to what appears to everyone else to be… complete silence. Welcome to the hugely popular European phenomenon that is, 'Headphone Disco.'"
The idea has been around since the mid 90's when a group of French performance artists ran small scale installations at arts venues across Europe. In recent years thought it's been popularised through the rock festival circuit and more recently through club events which has seen it turn from conceptual art into a full scale clubbing phenomenon.
HOW IT WORKS:
Each party-goer receives a special pair of wireless headphones.
Two DJ's play from the same booth offering a completely different soundtrack broadcast in FM.
Party goers can toggle between the two DJ's via a frequency selector on their headsets.
The club/event runs as normal with lights, smoke and, of course, dancing but with no sound coming from any external speakers.
Clubbers can either throw on a headset and get into the groove or stand back and marvel at a load of people dancing and singing along to a DJ that only they can hear.
Headphone Disco is every Thursday from 9-4 at Pier 17, South Street Seaport.