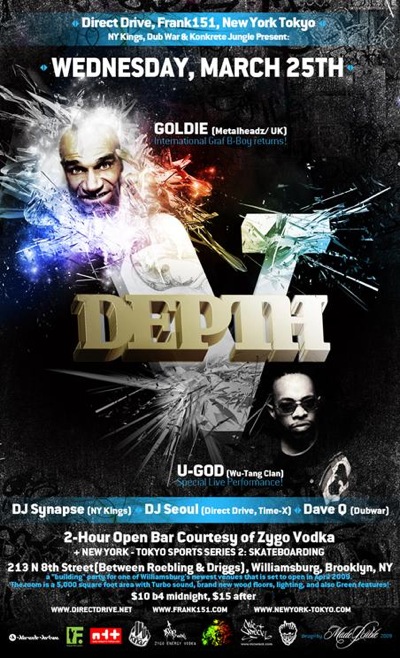 Direct Drive, Frank151, New York Tokyo,
NY Kings, Dub War & Konkrete Jungle Present: 
GOLDIE (Metalheadz/ UK)
-International Graf B-Boy returns!
1AM U-GOD (Wu-Tang Clan) 12AM
-Special Live Performance
With:DJ Synapse (NY Kings)
DJ Seoul (Direct Drive, Time-X)
Dave Q (Dubwar) 
2-Hour Vodka Bar Courtesy of Zygo Vodka
NY-Tokyo Sport Series 2: Skateboarding
213 N 8th Street, Williamsburg, Brooklyn, NY
-(Between Roebling & Driggs) L train to Bedford Ave
This is a "building" party for one of Williamsburg's newest venues
that is set to open in April 2009. 
The room is a 5,000 square foot area with Turbo sound,
brand new wood floors, lighting, and alsoGreen features!
$10 b4 Midnight, $15 after
Doors From 10pm-3am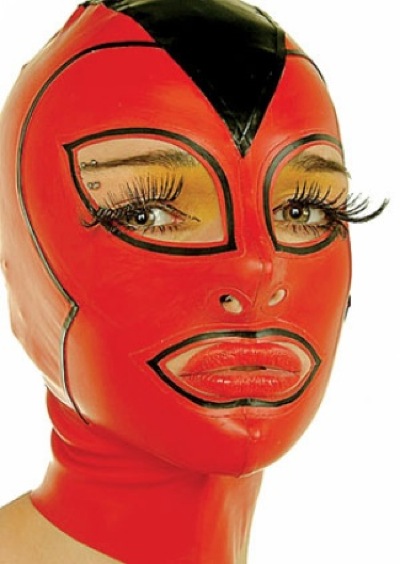 By Joseph Alexiou-NewYork Press
The red and black walls of Demask, a high-end fetish wear boutique on Orchard Street, are lined with racks of leather straps, latex jocks, corsets, bodysuits, butcher aprons and other buckles, prongs, chains and kinky accessories. 
But according to the Antoinette, the store's manager, who can be found most days and evenings at the counter, Demask is experiencing the economic slump in its own peculiar way. [Read More]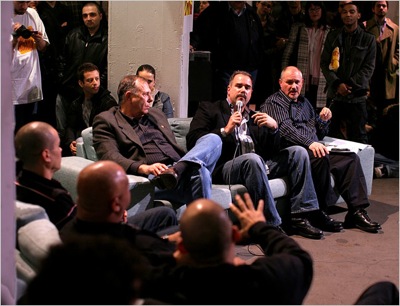 By Randy Kennedy-The NY Times
Back in the day, Cope2, a Bronx graffiti legend as big as a linebacker, usually found himself in proximity to police officers only when they were tracking him in the metallic darkness of a subway yard or when they finally caught up to him and hauled him in. [Read More]
Old-Soulz & Earth Creations present:
FiFa @ Beauty Bar (231 E 14th St, New York)
Wednesday, April 1st
door @ 6pm – 3am
Open bar of special Sake Cocktail:
6 – 7pm
10pm – 11pm

Photo by Streetsy
Recent News
O.D.B Mural in Bed Stuy Defaced
Upcoming Radio Shows
Wednesday: A1 Afterhours @ 9PM
Thursday: Mo Music Mo Life – NEW SHOW @ 8PM!
Friday: Halcyon Presents Nu Pschidt @ 7PM
New in the Radio Archive
Zakka 03.16.09: DJ UG
Nise Muisc 03.17.09
Along with frozen yogurt joints, the East Village has been overwhelmed by ramen noodle shops. Ramen shops are the new banks–one on every corner. And now another one is coming…to the corner long occupied by Love Saves the Day. [Read More]

01. Anthony Rother – When The Sun Goes Down (UR Mix)
02. Humate and Rabbit in the Moon – East
03. Heller and Farley – The Rising Sun (Bedrock Remix)
04. Luzon – The Baguio Track (Bedrock Remix)
05. Gecko – Just Close Your Eyes
06. Robert Hood – Side Effect
07. Plasticman – Spastik
08. Christian Morgenstern – Night of the Living Deaf
09. Samuel Sessions – Riot On 33 1/3
10. Brother Brown – Star Catching Girl (Smith and Selway Rmx)

Host By DJ Monchan
Live broadcast from Cedar Party Room
This week Guest DJ DJ CER
email muzic@earthlink.net for RSVP

Host By DJ Monchan
Live broadcast from Cedar Party Room
This week Guest DJ Steven Burroughs
email muzic@earthlink.net for RSVP

Photo – Bed Stuy Banana
As the Bed Stuy Banana reports, the O.D.B mural was recently defaced. Read more about it here.

Mixed by DJ UG
01.Bob Marley-Is This Love
02.Bob Marley-One Love
o3.Bob Marley-Midnight Ravers
04.Monty Alexander-Crazy Baldheads
05.Eric Clapton-I Ain't  Gonna Stand For It(Hiroshi Fuziwara mix)
06.Raphael Saadiq-sky's The Limit
07.Azimuth-Seems Like This
08.Isaac Hays-Moonlight Loving
09.Labelle-Moonshadow
10.Rare Earth-Ma

Photo by Josh Derr
Recent News
Vandalism Stirs Debate – NYTimes
NARA at Niagra – Gothamist
Tupac to Drop Another New Album – Vibe
50 Years of Island Records
The Downsides of Streaming Music
Warp Celebrates it's 20th Year
Vox Pop is Struggling – NYTimes
Vandal Squad Panel at Powerhouse on Thursday
Upcoming Radio Shows
Today: Zakka's Radio Show @ 8PM
Tuesday: Nise Music's Radio Show @ 7PM
Wednesday: A1 Afterhours @ 9PM
Thursday: Mo Music Mo Life – NEW SHOW @ 8PM!
Friday: Halcyon Presents Nu Pschidt @ 7PM
New in the Radio Archive
Zakka 03.09.09: Takaya Nagase
Nise Muisc 03.10.09
The recent release Vandal Squad: Inside the New York City Transit Police Department, 1984-2004has caused consternation throughout the global graffiti community with charges that author Joseph Rivera is profiting off the very criminals he spent his career incarcerating.
In response, the powerHouse Arena will host a conversation between former members of the Vandal Squad and the graffiti writers, the first such event of its kind. With the intent of providing an open forum for public discussion to discuss the issues regarding the methods that the Vandal Squad employs and their impact on the lives of the writers themselves. Panelists include Vandal Squad author Joseph Rivera, former Commanding Officer Lieutenant Steven Mona, original Vandal Squad Lieutenant Ken Chiulli, graffiti legend COPE2, graffiti activist Ket, and street artist ELLIS G. The event will be moderated by Stern Rockwell, Streets Are Saying Things. 
By James Barron – NYTimes
"The coffee shop-and-bookstore credited with kindling the social scene on Cortelyou Road in Ditmas Park, Brooklyn, cannot sell coffee. Beer? Sorry, no beer, either. Salads? No.
The health department shut down the food-and-beverage operation at the shop, Vox Pop, in January, because of $29,000 in unpaid fines going back to 2007.
Vox Pop is also three months behind on the rent. The telephone has been disconnected. And the person who was hired in December to straighten things out has never been paid." [Read More]