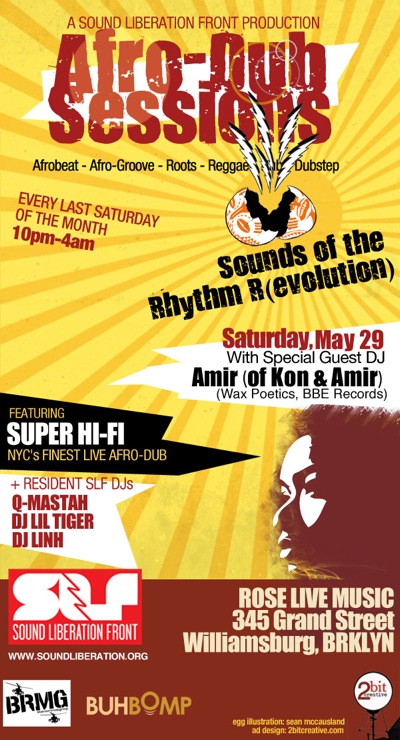 SLF presents Afro-Dub Sessions
Saturday, May 29, 2010, 10 p.m.–4 a.m.
(and every last Saturday of the month)
Rose Live Music, 345 Grand St., Brooklyn, NY
Sound Liberation Front (SLF), an arts and music organization based in Brooklyn, presents Afro-Dub
Sessions: a monthly party at Rose Live Music in Williamsburg that combines live music and DJs to
celebrate the best in Dub and African-influenced sounds.
This month?s party will feature an Africa-inspired guest set by Amir from the world-renown record-
collecting duo Kon and Amir. Revered for his extensive knowledge of music, Amir has made a name for
himself compiling rare grooves for the duo?s legendary Kings of Diggin?, On Track and Off Track releases
on BBE Records. This includes the just-released Off Track III mix CD, which features eclectic African
disco and soul from the period following Fela Kuti?s mid-70s creative peak. Amir also heads the record
label arm of Wax Poetics magazine, and has been featured in XLR8R, Spine Magazine, The Source,
Scratch, and Urb.
As it does every month, Afro-Dub Sessions also features a pair of live performances by resident band
Super Hi-Fi, which combines Afrobeat, Dub, live remixing and special guest appearances to create their
signature Afro-Dub sound. The five-piece collective features members of Aphrodesia, Slavic Soul Party,
The Superpowers, and the Blue Man Group.
SLF?s resident DJs Linh, Q-Mastah and Lil Tiger will bring their diverse musical selections to the
turntables to round out the night.
Afro-Dub Sessions is dedicated to the idea that dub, born in Jamaica, and African musical styles like
Afrobeat, Afropop and Afrofunk are natural partners in the origins of global dance music. Each month
SLF explores these connections by hosting a different guest DJ specializing in Dub or African-influenced
styles. The June 26 party will feature New York reggae specialists Deadly Dragon Sound System.
SOUND LIBERATION FRONT is a Brooklyn-based non-profit organization devoted to the power of music
as a socially liberating and unifying cultural force. Last summer, the group organized the Sound
Liberation Festival in Brooklyn. The event featured hip-hop legends Brand Nubian; electro-Afrobeat
pioneers Chico Mann; Ticklah; DJs Kenny Parker, Cosmo Baker, and Ian Friday; and, workshops by
Afro Mosaic Soul and DubSpot. SLF also hosts SoundLib Wednesdays at Moe?s Bar in Fort Greene.