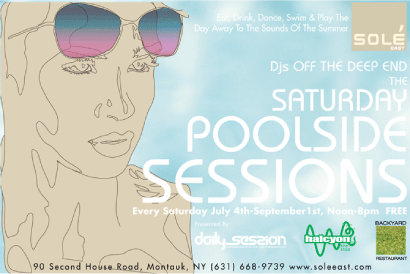 halcyon, dailysession and sole east present:
DJs Off the Deep End: The Saturday Poolside Sessions
Eat, drink, dance, swin, sun & play the day away to the sounds of summer, served poolside by halcyon's finest. Saturdays this summer, you'll find us relaxing on an oversized mattress with a built-in speaker, poolside at the laid back Sole East Inn and Backyard bar/restaurant in Montauk, L.I. Get out of Brooklyn, get past The Hamptons, and join us at this east end oasis, as we dive deep into fluid beats, flowing cocktails and fine food. The all day pool party is free and open to all, so come for the day, or better, make it a weekend and stay the night. Rooms are available at the remodeled Tudor inn or classic beachside motel. Book now and take advantage of special rates being offered exclusively through halcyon. And for those who can't make it, dailysession.com will be serving the sonic proceedings up live on the internet. Tune in from your brooklyn rooftop here at dailysession.com!